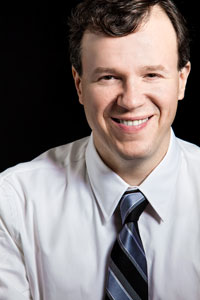 A specialist in American musical theater and American popular song, Aaron Gandy's concerts and recordings embrace the best of Broadway from Kern to Lloyd-Webber, while encompassing Swing, Jazz and the golden age of Hollywood. Recent recordings include the all-star Jule Styne In Hollywood (PS Classics) and the upcoming Busker Alley (Jay Records). In 2004 he conducted the premiere recording of Kay Swift's Fine & Dandy on PS Classics featuring Broadway's Carolee Carmello and HBO's Mario Cantone. Upcoming recordings include Alec Wilder's Miss Chicken Little (originally broadcast on CBS television in 1953) and a restoration of Walter Donaldson's jazz-age romp Whoopee! Regarded as a leading authority on composer Vincent Youmans, Mr. Gandy restored and conducted the premiere recording of Youmans' final Broadway score Through the Years starring Metropolitan Opera Soprano Heidi Grant Murphy.
Mr. Gandy restored the original film orchestrations for Rodgers & Hammerstein's The King and I, and Irving Berlin's White Christmas. His restoration of the original film orchestrations for Rodgers & Hammerstein's Oklahoma! was performed by the Hollywood Bowl Orchestra in 1997.
His association with the Music Division of the Library of Congress began in 1995 with 'Swonderful! The Library of Congress Salutes the George and Ira Gershwin Collection. For Richard Rodgers' centenary in 2002 Mr. Gandy teamed with soprano Sylvia McNair for a program entitled Rodgers Rarities, which highlighted the Library's Richard Rodgers Collection. Later that year, Mr. Gandy conducted Rodgers and Hart's classic A Connecticut Yankee in Veterans Memorial Hall in San Francisco, starring Davis Gaines.
For New York City's celebrated Encores series, he coordinated the restoration of Harold Arlen's St. Louis Woman and Cole Porter's DuBarry was a Lady. For Carnegie Hall, he coordinated concert presentations of the Gershwin's Tip-Toes and Irving Berlin's Louisiana Purchase. Mr. Gandy has restored and performed Youmans' Great Day! at the Library of Congress, and Rainbow starring Jerry Hadley in New York City.
Mr. Gandy's recording projects include The Boys from Syracuse (DRG), St. Louis Woman (Mercury) , Ziegfeld Follies of 1936 (Decca Broadway), Tip-Toes and Tell Me More (New World Records) and Louisiana Purchase (DRG), and Orchids in the Moonlight/The Carioca (Arabesque). Concerts have included Doin' What Comes Naturally: GMHC's Broadway Salute to Ethel Merman, Colm Wilkinson: Stage Heroes (broadcast on PBS), and Ira Gershwin at 100: A Celebration at Carnegie Hall (also on PBS); he has also worked on solo recordings by Tony® Award-winner Kristin Chenoweth, soprano Tomoko Shibata and soprano Dawn Upshaw.
Mr. Gandy's Broadway credits include Disney's The Lion King, Urinetown, and Dora the Explorer Live! at Radio City Music Hall. He has concertized with The Chamber Music Society of Lincoln Center, The Chicago Humanities Festival, 42nd Street Moon, Cami Hall, San Francisco's 42nd Street Moon, The Museum of Television and Radio, Symphony Space, Tribeca Performing Arts Center and solo appearances with Davis Gaines, Leslie Uggams, Christianne Noll, Jerry Hadley, Jim Dale, Dick Hyman, Lainie Kazan and Glenn Close. A native of North Florida, Mr. Gandy is a graduate of Florida State University's School of Music.